At the start of this year, I was asked to write about the Social Justice Sewing Academy for the Craft Industry Alliance. You can check out the article here if you're a member, as it shares more background and different photos. (And if you're not a member, you should join!)
Abby Glassenberg kindly said I could share some of the quotes and photos I got from the founder, Sara, so here goes!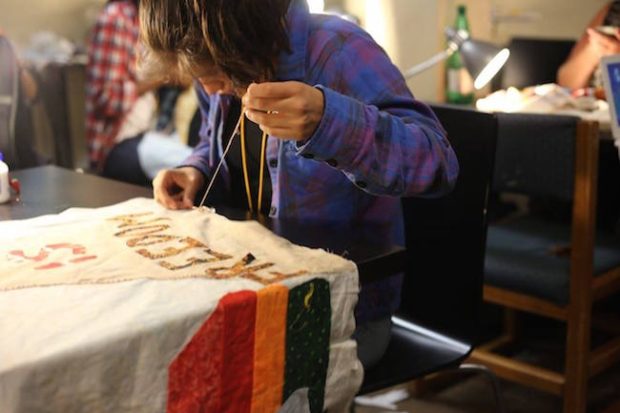 "The summer I got the grant, it was $25,000. UC Berkeley paid for it. So it's a year-long public service project, where as long as you submit reports and you show that you spent the money appropriately they'll give you $25,000 for a project. What kind of spurred it, was I was a mentor at Berkeley High School and working with the kids, you could kind of see how they would give me complaints, like at UC Berkeley they have Ethnic Studies, they have African-American Studies, they have Chicano, Latino, LGBT Studies, like UC Berkeley really gives you a holistic, a critical lens on how you view the world, on other people's history, on the diaspora work, it just really gives you a holistic lens of American history.
And some of the kids were like, you know, in our history class we learn from African-American history starting at slavery, and I was like, you know, well before that there were kings and queens, I just like a lot of the like Paolo Friere, just I think Frierian methodology and more critical pedagogy like how to become a critical thinker and not just take whatever the teacher gives you as fact."
At this point, Sara was tutoring kids and decided to bring in readings for them. She brought in readings about their own cultures and identities, so they could see themselves in the literature.
She had them write research papers on the material and came up with the idea of having an art show where they could show related work and therefore involve the community.
"I know initially when the boys were in my class and they were told, 'Hey, you're in Sara's class," and I said, "Hey, so it's called Sewing Justice Sewing Academy and this is what we're going to do." "I don't want to be in a sewing class, man." I mean I had so much pushback, but it turns out the boys, they would come spend their lunches in the class just to work on their project, so I think initially after they got over the stigma, and I kind of framed it, "Like you guys don't consider yourself seamstresses, consider yourself textile artists," telling a boy that means all the difference.
Just the wording alone, but "And so you guys are going to be sewing, but consider yourself a textile artist, it's not like I'm asking you guys to make a patchwork quilt. Consider learning What is a heavy duty sewing machine? For quality results. You guys are going to design and create your own social justice art quilt." I think what matters, [is that you] use this art as a platform to share your voice, share your opinion, once they got their fabrics, everyone was super excited, there was a couple moments where I feel like kids were getting overwhelmed, 'cause I realized, some people made really detailed, detailed, patterns, and I'm telling them, you know every pattern you draw like that's going to be something you're going to have to cut out and pin… But ultimately everyone was so proud of their quilts – and the progress, other teachers would come and other students who weren't in the Social Justice Sewing Academy they would come and say "Man, I wish I was in this class."
Want to see more of SJSA's work? Check out their gallery of photos and find them on Facebook and Instagram!